Met deelnemers uit Nederland, België, Duitsland, Ierland, Engeland, Wales, Schotland, en Frankrijk kan je wel spreken van een internationaal tornooi.
Er was tornooi in 4 verschillende reeksen: U10 jongens, U10 meisjes, U11 jongens, en U11 meisjes.
Wij speelden in de U11 meisjes reeks, met een aantal U11 meisjes, maar ook met U10 en U9 meisjes.
De ploegenvoorstelling duurde meer dan een half uur: veertig ploegen werden voorgesteld, en daarna speelde nog het volkslied voor elke aanwezige nationaliteit: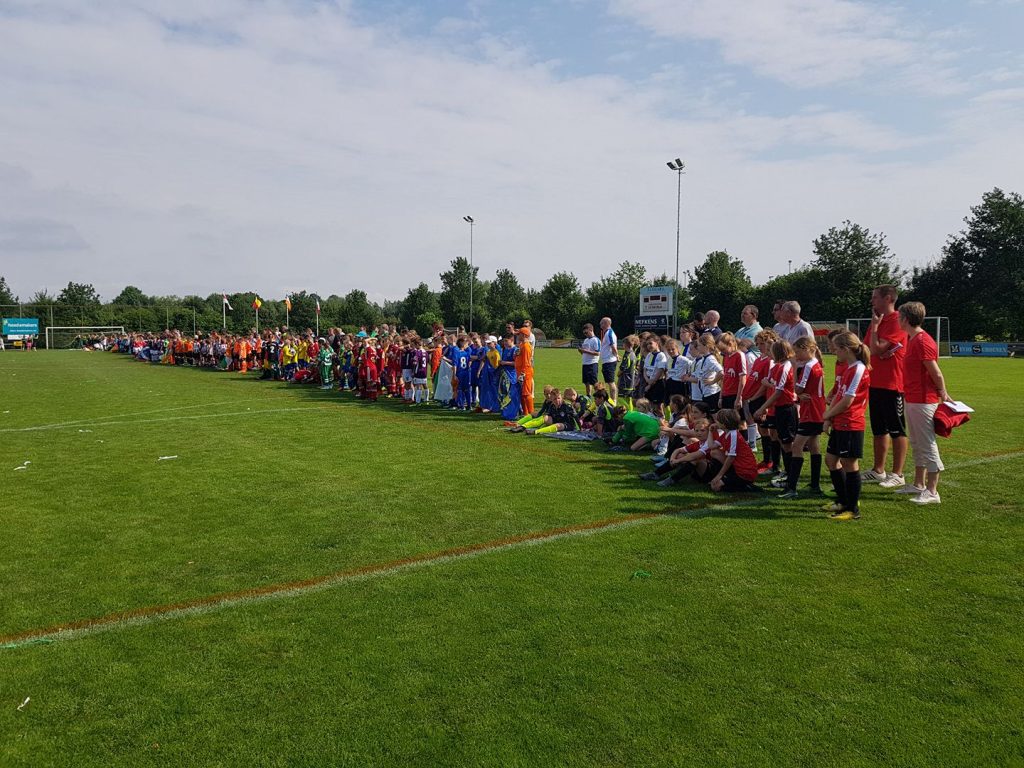 Heel de lengte van het veld was bezet: spelers van aan het ene doel, tot aan het andere. Wij zitten hier helemaal rechts.
De U11 meidenteams: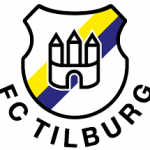 FC Tilburg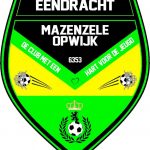 Eendracht Mazenzele Opwijk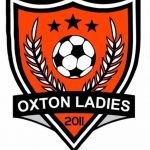 Oxton Ladies FC (Engeland)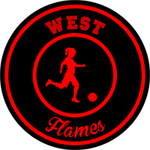 West Flames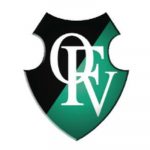 Oberkasseler FV 1910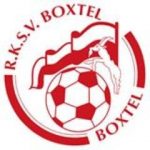 R.K.S.V. Boxtel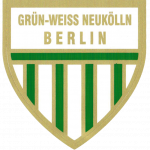 BSV GW Neukölln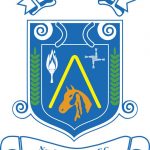 Newbridge Town FC
Heel erg spannend is het niet geworden: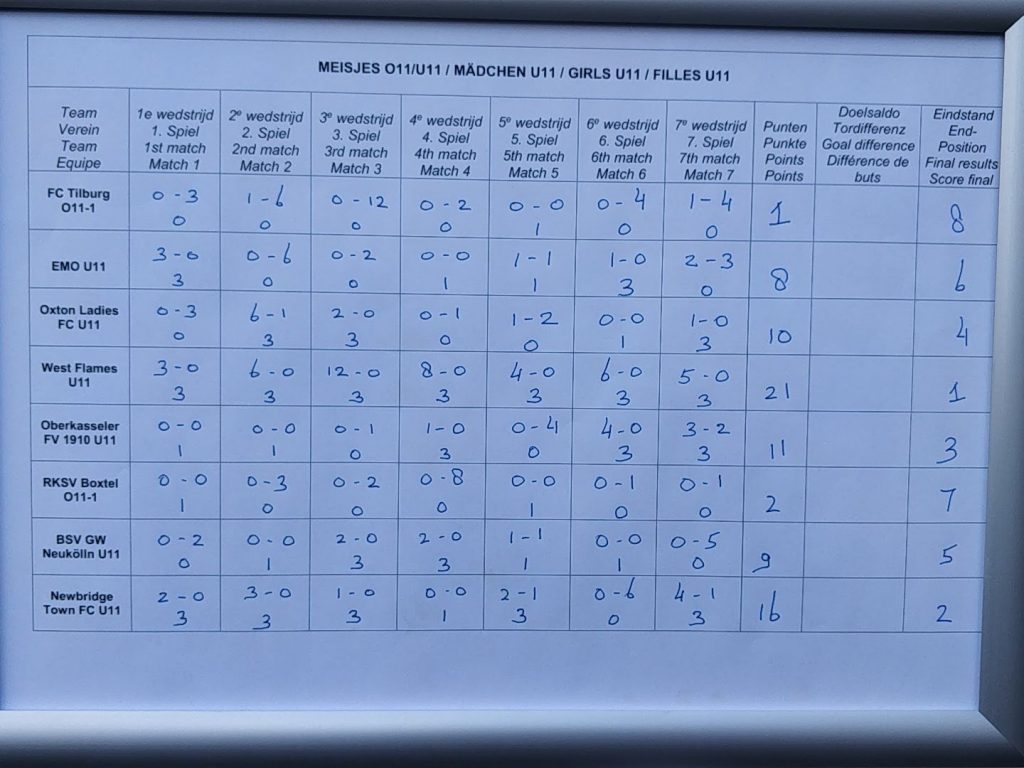 We hebben alles gewonnen, 44x gescoord, en geen enkel doelpunt tegen gekregen.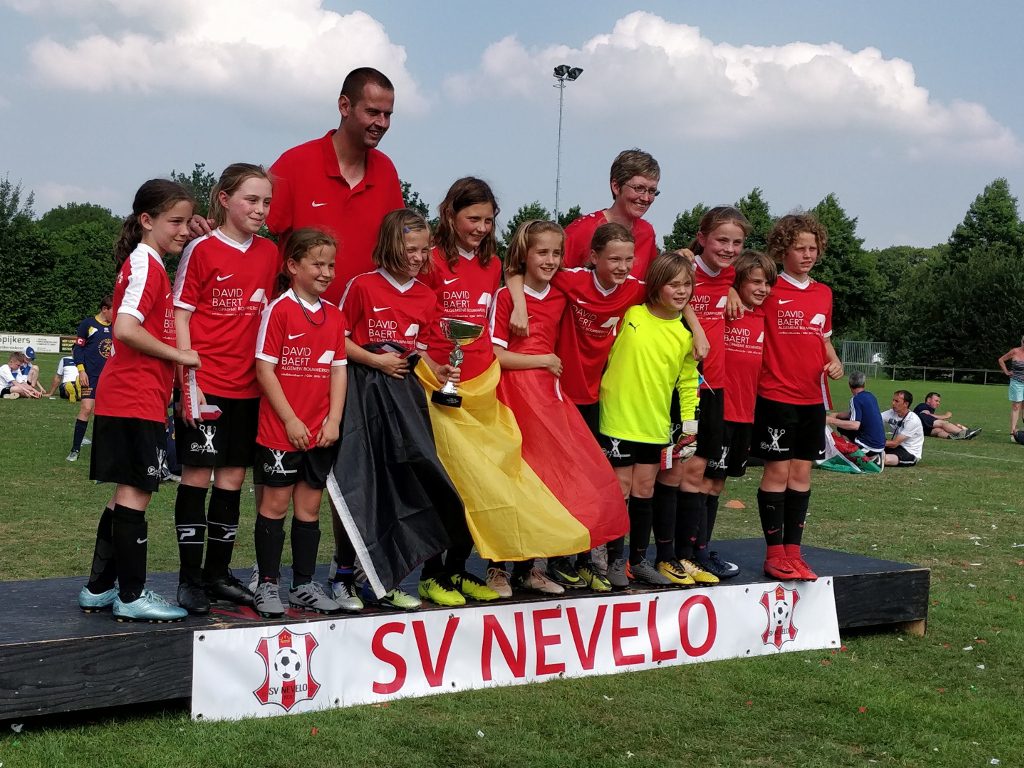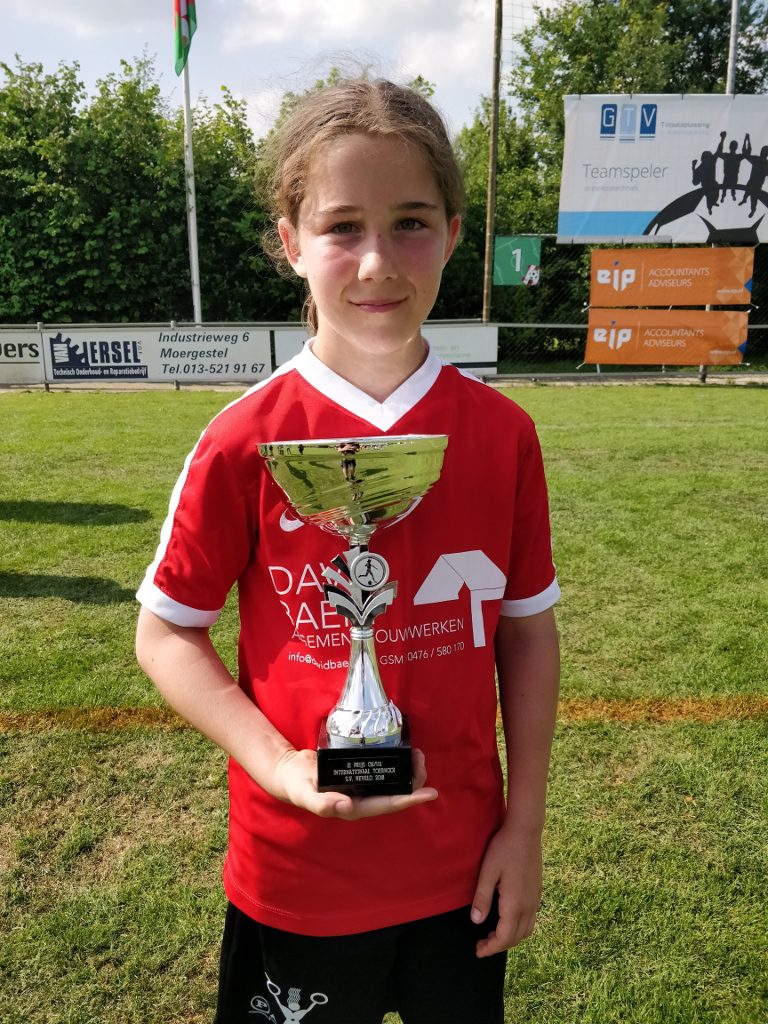 Tussen twee wedstrijden in zag Noor plots een aantal bekenden: spelers uit haar ploeg. Ze speelden bij de Flanders Soccer Academy.
We hebben dan voor elkaar gesupporterd. Zij zijn heel knap tweede geworden!
De officiële 'afsluitnota', zoals gepost door de organisator op Facebook:
Last Sunday we had our tournaments for the U10's and U11's (boys and girls). 40 teams in total divided in boys (24 teams) and girls (16 teams). The boys teams were going to play 5 group matches and 2 (cross)finals. The girls teams were going to play 7 group matches.
U10 boys

In group 1 Flanders Soccer Academy U10  turned out to be really strong. They won all 5 group matches to end with 15 points.

The second place was secured by Mickleover RBL Golds U10  with 12 points.

In the other group AFC Vernon Colts U10  and Pike Rovers FC U10  both ended with 13 points. Their match ended in a 0-0 draw. Therefore the goal difference was decisive. The guests from England scored a little better then the Irish team (+16 versus +13).

The first cross final between Flanders Soccer Academy U10 and Pike Rovers FC U10 ended in 1-1. The Belgian team won the penalties.

The other cross final was an English battle on Dutch soil. Just like last year Derby (Mickleover RBL Golds U10) won from Nottingham (AFC Vernon Colts U10) 3-1.
The big final on pitch 1a between Flanders and Mickleover was a close call. In the end the English team was crowned as champion after a 1-0 win.

The battle for the 3rd place between Pike Rovers FC U10 and AFC Vernon Colts U10 was won by the Irish (also 1-0).

Final results boys U10:

Mickleover RBL Golds U10 
Flanders Soccer Academy U10 
Pike Rovers FC U10 
AFC Vernon Colts U10 
Tallaght Town AFC U10 
Broughton Super Saints U10 
KSV Oud-Turnhout U10 
Dongen O10-3 
Sportfreunde Neuwerk 06 E2 
FC Engelen O10-2 
Falkirk Football Comm. Foundations U10 Reds 
Nevelo O10-2 
U10 girls

In this tournament we had 8 teams out of 5 different countries.

FC Dames Ternat U10  played really well. They won 6 matches and drewed 1 to end with 19 points. The biggest trophy went to Belgium.

Runner up Newbridge Town FC U10  only lost from the winner. Their 5 wins and 1 draw resulted in 16 points and the 2nd place.

The bronze trophy was won by BV Gräfrath U10 . They collected 10 points just before SC 't Zand O10-1  with 9 points.

Final results girls U10:

FC Dames Ternat U10 
Newbridge Town FC U10 
BV Gräfrath U10 
SC 't Zand O10-1 
Nevelo O10-1 
K.S.V. 12 U10 
Victoria Habinghorst U10 
OJC Rosmalen O10-1 
U11 boys

In group 1 we had 2 teams with 12 points. UM367  and Union Halluin U11 . The match between these 2 teams ended in a 2-1 win for our French guests. Therefore they ended first to battle against the second team from the other group.
In the other group we had an U10 team (Vauxhall Motors Cavaliers U10 ) that played one year up. It was very surprising they finished first with 13 points out of 5 matches. Brilliant performance guys. Cambridge FC U11  collected 10 points to finish second.

The first cross final was between Union Halluin U11 and Cambridge FC U11. The French team turned out to be a little stronger and won 2-0.

In the other cross final Vauxhall Motors Cavaliers U10 beat UM367 with 1-0.

In the final Union Halluin U11 had no mercy with Vauxhall Motors Cavaliers U10. After 15 minutes the score was 4-0.

The match for the 3rd and 4th place between UM367 and Cambridge FC U11 on pitch 1b ended in 2-2. The Belgian team kept their head cool and won the penalties.

Final results boys U11:

Union Halluin U11 
Vauxhall Motors Cavaliers U10 
UM367 
Cambridge FC U11 
 FV 06 Sprendlingen E1 
Nevelo O11-1 
SV Aartselaar U11 
Tallaght Town AFC U11 
SC Blau Weiss Wulfen U11 
Falkirk Central U11 
FC Engelen O11-3 
Broughton Super Saints JFC U11 
U11 girls

In this tournament we welcomed 8 teams out of 5 different countries.

West Flames U11  had several U10 players in their team. Despite the difference in age the team turned out to be much too strong for the other opponents. They won all 7 matches with scoring 44 goals and conceding none.

Newbridge Town FC U11  only lost from West Flames U11. The other 6 matches resulted in 5 wins and 1 draw. 16 points were enough the win the 2nd prize.

The batlle for the 3rd place was between Oxton Ladies FC U11  and Oberkasseler FV 1910 U11 . The German team collected 11 points and ended just before the orange team from England (10 points).

Final results girls U11:

West Flames U11 
Newbridge Town FC U11 
Oberkasseler FV 1910 U11 
Oxton Ladies FC U11 
BSV Grun-Weiss Neukölln U11 
Eendracht Mazenzele Opwijk U11 
RKSV Boxtel O11-1 
FC Tilburg O11-1 
It was a long but fantastic day. All 40 teams attended, the weather was great and we saw a lot of nice matches and smashing goals. In the end we could only be very satisfied about the outcome.

During the day Peter van der Ham made some very nice pictures. You can download them for free by using the links below. Thank you very much Peter. Your help and professional photos are really appreciated.

For the morning pictures just click on the following link:
https://photos.app.goo.gl/oLga9JjUPAT2fJsEA

For the afternoon pictures just click on the following link:
https://photos.app.goo.gl/pYhiYwwNY2kucnNA7